Schaefer Center, where you and your family can have a world of fun and excitement - or just sit back and relax in beautiful, tree-shaded gardens. Don't miss it!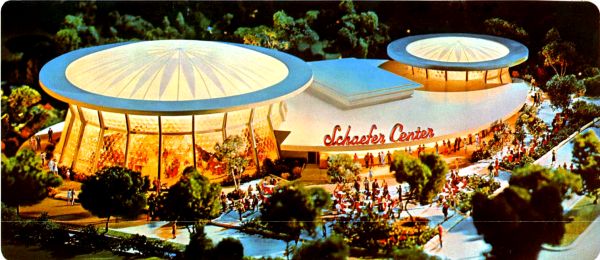 | | | |
| --- | --- | --- |
| Schaefer Center Restaurant, where you will enjoy delicious food and tall, refreshing drinks served in breath-taking surroundings. Don't miss it! | | |
The 100-foot Outdoor Bar (one of the world's longest) with adjoining beer gardens, where you'll enjoy the most rewarding glass of beer you've ever tasted. Don't miss it!

| | |
| --- | --- |
| The Schaefer Circle of Sports Gallery, where you'll meet the Sports Celebrity Host of the Week and see dramatic portrayals of some of sport's most memorable moments. Don't miss it! | Schaefer Rotunda, where you'll see some colorful and unusual exhibits from Schaefer beer's 122-year history. Don't' miss it! |
---
SOURCE: Schaefer Center Promotional Brochure
HIGHLIGHTS OF SCHAEFER CENTER Schaefer Center at the 1964-65 New York World's Fair is an almost entirely plastic and fiberglass structure designed with the comfort of its guests in mind. The roofs of Schaefer Center are air-filled plastic discs which appear to float over the two circular pavilions. The walls are made of transparent plexiglass formed into special sections in an overall bubble pattern. This construction is unusual because the perimeter boomerang shaped steel columns anchor the light-weight structure to the ground rather than supports it. The two structures are entirely air conditioned.
SCHAEFER CENTER RESTAURANT With a seating capacity of 340, Schaefer Center Restaurant circles an elegant 10-foot high water fountain made of plexiglass. White ornamental trees with foliage of bright gold and silver foil are dispersed among the tables. The trees, which are real, are sprayed white, mounted in large teakwood tubs and are illuminated by 300 "firefly" lights per tree. Clustered around each tree, which functionally serves as a service station, will be circular white Formica tables. Alternating read and gold vinyl upholstered arm chairs will seat diners comfortably.
SCHAEFER CENTER ROTUNDA In this area visitors will see a diorama of the original Schaefer brewery in 1842. It colorfully depicts gnomes performing typical operations involved in making Schaefer beer at that time. Visitors will also see a three-foot square transparency of the Wetzlar Inn, "Zum Reichsapfel" owned by the Schaefer family 200 years ago in Germany. There will be reproductions of the cooperage shop, bags of hops, a malt crusher, mash tun, furnace and kettles of the old brewery. A section of the exterior of the old brewery is also shown, with an old-fashioned horse-drawn brewery wagon making its deliveries. Every detail is planned to reproduce the era authentically.

On the opposite wall visitors will view five revolving drums, of three sides each, which move simultaneously in phases that last about 10 seconds each. The first phase shows the three present-day Schafer breweries at Brooklyn, Baltimore and Albany and the malting plant in Buffalo. The second phase shows interiors of these plants. The third shows typical scenes of people enjoying a cold glass of Schaefer beer.
"SCHAEFER CIRCLE OF SPORTS" GALLERY Here large photomurals depict many of the greatest moments in sports during the past 25 years as selected by the East's leading sports editors. Highlighting these great moments in sports are: Bobby Thompson's dramatic home run in the 1951 playoffs between the New York Giants and the Brooklyn Dodgers; Baltimore Colt's full back Alan Ameche scoring the winning touchdown against the football Giants in an overtime period in 1958; Roger Bannister running the first four-minute mile in Oxford, England, in 1954; and Rocky Marciano's knock out of Jersey Joe Walcott in the 13th round to win the heavyweight championship in 1952.
SCHAEFER CENTER BEER GARDEN Schaefer Center's Beer Garden is designed to be a place for relaxation. The area is furnished with white wrought iron Molla furniture in a lacy, yet contemporary design, beneath red, white and gold striped umbrellas. The tables are surrounded by brilliant foliage.
LONGEST BAR AT FAIR A 100-foot-long bar, which connects the two structures making up Schaefer Center, will serve a complete selection of beverages. The bar is faced with red, white and gold mosaic ceramic tiles. Schaefer beer barrels are tapped in full view of visitors.
SCHAEFER CENTER SPORTS HOSTS Each weekend at Schaefer Center, throughout the two year run of the Fair, outstanding sports celebrities will meet and greet visitors. Among these sports stars will be Johnny Unitas, Rocky Marciano, Rocky Graziano, Bill Russell, Sam Huff, Bobby Thompson and Ralph Branca.