FLUSHING MEADOW N.Y. -- The American housewife -- the Golden Goddess of the Market Place -- will find herself in the spotlight at a major exhibit in the New York World's Fair opening next April 22.
Scott Paper Company, producer of a wide range of products for household and industrial use, says that its exhibit, "The Scott Enchanted Forest," has been designed primarily to pay tribute to the housewife-shoppers "whose confidence in the quality and value of the company's products is a treasured asset."
The exhibit buildings will be located on a 25,000-square-foot site, landscaped and wooded lot to provide visitors with a tranquil respite from the busier sites and sounds of the Fair. Evergreen and deciduous trees, a flowing stream and attractive covered benches for those who wish to pause and rest will surround buildings patterned after the California "mountain lodge" style.
Artist's conception of the Scott Paper Company Pavilion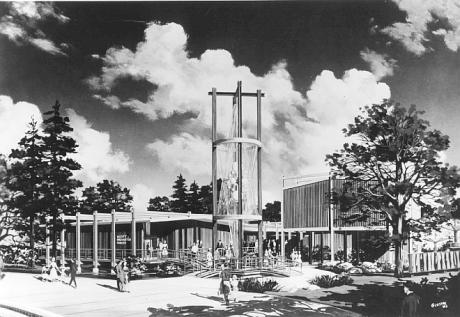 A 50-foot tower of two intersecting cones formed by gold cables and supported by thick, stained wooden beams will symbolize the growth and progress of Scott, of paper, and of the free enterprise system.
Model of Scott Tower showing intricate cable design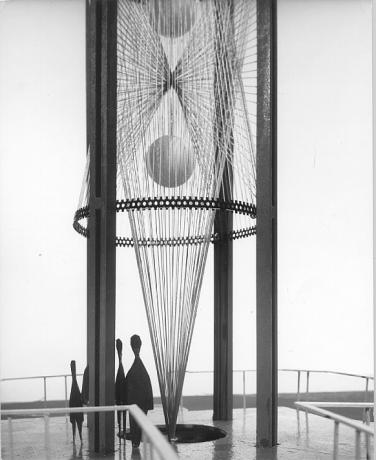 Stepping through the doors of the exhibit building itself, visitors will enter another forest, one enchanting in its design and enticing in its welcome. For here, in the woodlands, is the beginning for the tissues and towels and other useful household products of that mysterious and wonderful material, paper.
Entrance to The Enchanted Forest, theme of the Scott Paper Pavilion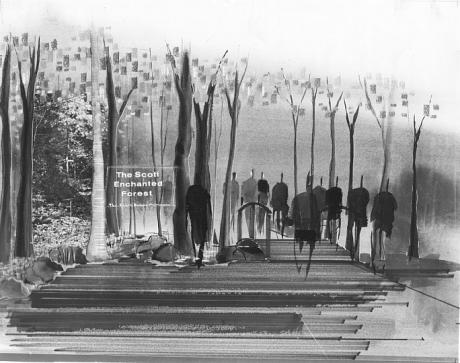 Pavilion will highlight displays of Scott Paper products and paper making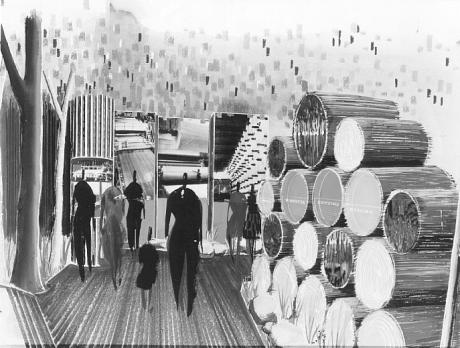 The tour through the building, scheduled to require 15 minutes or so, will offer a fascinating insight into the complex art of paper making under rigid standards of quality. A number of exhibit and display techniques will be used to portray the steps from tree to finished product. Everyone from school-aged youngsters to their grandparents should find this an interesting and enlightening experience.
A Salute to the "Golden Goddess of the Market Place" -- the American housewife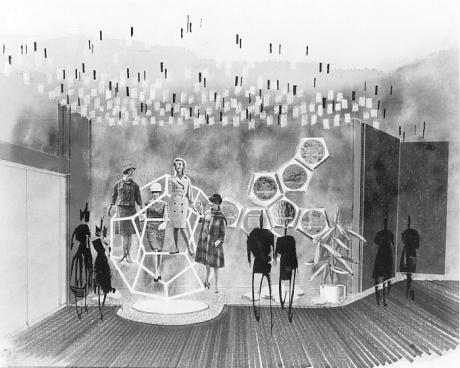 In addition, the exhibit will feature displays illustrating the wide range of products utilizing Scott's polyurethane foam, as well as such areas as research, industrial paper products and printing and converting papers.
A second pavilion on the site will house modern, comfortable rest room facilities.
Source: undated Scott Paper Company press release.