EXHIBIT

Seven-Up Company, The

AUTHORIZED REPRESENTATIVE

Mr. John C. Furnas

Seven-Up New York World's Fair

Associates

33 East 48th Street

New York 17, New York

MU 6-7000

CONTRACT SIGNED

October 12, 1962

LOCATION

Block 17; Lot 3

Industrial Area

AREA

45,088 sq. ft.

ARCHITECT

Becker and Becker Assocs.

375 Park Avenue

New York 22, New York

PL 9-1678

CONTRACTOR

Thatcher Construction Co.

ADMISSION

Free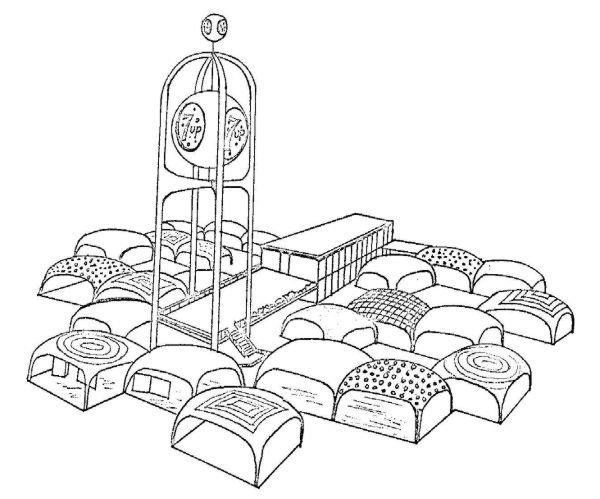 SOURCE: World's Fair Information Manual
FEATURES

The Seven-Up Pavilion will serve as an oasis of international sandwiches and entertainment. The exhibit will emphasize the global scope of 7-Up and will be a tribute to all who play a part in making the 7-Up trademark an international symbol.

Exterior: The Pavilion area is sheltered by 24 brightly patterned canopies made of acrylic polyester resin reinforced by fiberglas. The shells are supported at the outer edge by curved steel angle frames. Each shell covers an area of 25 square feet. Four of these shells will contain elaborate 7-Up exhibits and 20 will be dining areas. Redwood decks form the flooring of all dining areas. The center building, with promenade deck, is constructed on a steel frame with cement insulated "sandwich" exterior paneling. The second level is walled with tinted glass from floor to ceiling. The decor features combinations of the Seven-Up Company red and green motif combined with the New York World's Fair white.

A distinctive tower topped by a four-faced clock reaches a height of 107 feet in the center of the exhibit. Beneath the clock, the sphere bearing the 7-Up emblem is 21 feet in diameter.

Interior: A public dining area comprises a major portion of the Pavilion. International sandwiches from all over the world will be served, prepared according to authentic recipes by the Brass Rail. The tables accommodating three, four and five persons have a seating capacity of 640. As visitors sip 7-Up, continuous entertainment will be presented from four circular stages throughout the Pavilion. The stages, 15 feet in diameter, are embodied in fountain pools. When the fountains are turned off. the platform stages become ready for the performer. The continuous acts -- musical, dancing and comedy -- will be programmed under the supervision of John Krimsky. The entertainment will be international in nature, featuring the music, song and dance specialities of many lands.
---
Seven-Up Pavilion
Source: NY World's Fair Publication For Those Who Built the Fair