The description of this exhibit from the 1964 Official Guide Book
The description of this exhibit from the 1965 Official Guide Book
The location of this exhibit on the 1964 Official Souvenir Map

SIMMONS
On the first floor of the blue and white Beautyrest pavilion, five whimsical displays follow man's progress from rock pillow to comfortable mattress in his effort to get a good night's sleep. On the upper floors, visitors can lie down in small, private rest alcoves, rented by the half-hour.

* Admission: free to the pavilion; rest alcoves, $1.00.
"LAND OF ENCHANTMENT." In the exhibit area, the animated displays deal with various aspects of sleep: elves digging sand for the Sandman; the sleeping difficulties of William Shakespeare, George Washington, Napoleon and other historic figures.

AND SO TO BED. Uniformed attendants escort visitors to their rest alcoves, set a timer and rouse them gently if they sleep beyond the half-hour limit. Each alcove is carpeted and furnished with bed, shelf and full-length mirror; a blanket is provided. The beds may be adjusted electronically like hospital beds.

SIMMONS
Visitors can take half-hour naps in rest alcoves or view model rooms cleverly designed to provide extra sleeping space.
Six model rooms, designed by Better Homes and Gardens magazine, show homemakers how to get maximum use out of a minimum amount of floor space.
AND SO TO BED. Attendants escort visitors upstairs to sleeping alcoves with adjustable beds, set a timer and gently wake them if they sleep beyond the half-hour period.
¶ Admission: free to the pavilion; rest alcoves, 50 cents a half hour.
3.15.03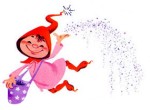 Join us at the sleeper hit of the Fair as we explore the Simmons Beautyrest Land of Enchantment -- Bradd Schiffman's excellent feature at nywf64.com.