Wisconsin in the 19th century was already such a dairy powerhouse that a company could be started just to manufacture the boxes in which to pack cheese, and that is just what Zalmon Gilbert Simmons did in 1870. His business was successful and, in 1875, after reading a newspaper article about a Connecticut inventor who had produced a machine to make woven wire mattresses, he decided to obtain the patent.
Early wire mattress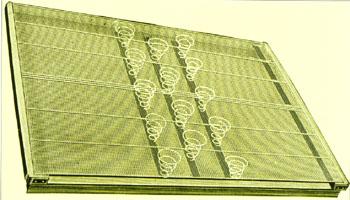 Beds at this time generally consisted of a sack stuffed with cushioning such as feathers, straw, cotton or horsehair. The mattress was set on a web of ropes anchored by a wooden frame, and the ropes would have to be continually tightened in order to keep the bed from sagging (hence the expression "sleep tight"). Bugs were among the drawbacks of this type of mattress, and although wire mattresses existed, they were expensive ($12) due to the fact that they were hand made. Simmons was able to reduce this cost to ninety-five cents. In 1884 he incorporated as the North Western Wire Mattress Company, and by 1887 the company was worth $100,000. Two years later he changed the name to The Simmons Manufacturing Company, and before the turn of the century sales exceeded $1 million.
Those who grew up in the 1960s and remember the Beautyrest ads may be shocked to learn that the brand was launched in 1925. At that time, Z.G.Simmons II was looking for an exceptional product for the company he inherited after his father's death in 1910. The bedding industry was mostly localized, consisting of hundreds of small companies turning out hair or cotton felt pads covered in black and white ticking, and it was widely believed that profits could only be made through the use of cheap raw materials. Simmons' attention was drawn to innerspring mattresses, one of which had been patented in the U.S. as early as 1853. These early innersprings met with little demand in the marketplace. In 1900 a Canadian named James Marshall successfully patented what he termed a "ventilated mattress" where each wire coil was encased in an individual cloth pocket, and in 1901 he began using a crank-driven machine to produce his mattresses in a one-room shop. They were deemed luxurious enough to be used on the Titanic, Lusitania and Mauritania, but they were clearly too expensive for most people to consider owning.
Remembering that it was the invention of a machine to produce woven wire bedsprings that had been his father's greatest success, Simmons asked his best Kenosha engineer, John Franklin Gail, to design a machine that would coil wire and insert it into fabric pockets quickly and independently. Three years later Gail perfected the Pocketed Coil Machine, and the company geared up to produce the new mattress. After collecting ideas from employees, the names "Sleep Comfort" and "Slumber Well" gave way to "Beautyrest".
Thanks in part to a large national advertising campaign, the introduction of the new mattress was highly successful. Sales reached $3 million by 1927, and climbed to $9 million by 1929. Simmons himself made a major improvement in 1928 when he introduced a woven floral damask outer cover. It is said he hit upon the idea at a restaurant when he picked up a damask napkin and found the feel and appearance quite pleasing.
1936 Simmons advertisement. Metal panel beds became part of the Simmons line.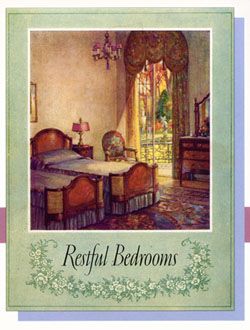 Z. G. Simmons II continued to lead the company through the first part of the Depression years, but became ill in 1932 and was succeeded by his son, Grant G. Simmons. By 1935 the Simmons Company had returned to profitability, and by 1937 Simmons beds could be found in the White House and on the Normandie and Queen Mary. Fortune Magazine noted that year that "Of all the Simmons Company's interests, the Beautyrest is by a large margin the most important."
Simmons' success with Beautyrest was due in part to its effective use of national advertising. In 1927, the "testimonial" campaign began, which featured magazine ads showing famous, wealthy and often titled women endorsing the Beautyrest. Later, mattress tags were attached to each Beautyrest stating that "This is a new Simmons Beautyrest mattress which is a duplicate of those chosen by Mrs. Henry Taft, Mrs. Morgan Belmont, Mrs. F. D. Roosevelt, and other socially prominent women." The other side said "Tell your friends."
In the 1930s Simmons turned to Glamour. Ads showed beautiful women in expensive lingerie stretched out on Beautyrests. This led naturally to an ad emphasizing the importance of a good night's sleep in preserving a woman's appearance as well as mood. One ad, titled "The Locked Door Mystery", read "Everyone concerned agreed that young Mrs. Fletcher was in love with her husband. What was it that made her leave him? . . . the spilled nail polish, overturned cup, display of temper and depression are clues that point directly to a nervous system badly upset by loss of sleep." The connection between a good night's sleep and feeling great the next day would turn out to be a popular selling point far into the future.
A 1947 ad for Baby Beauty Crib Mattresses.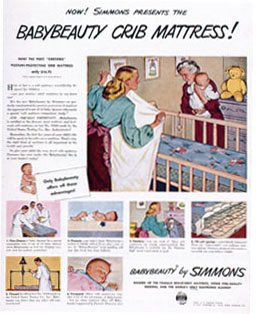 In the 1950s the Beautyrest ads employed various stunts to emphasize the ruggedness of the product. One ad is titled "Beautyrest Day at the Circus", and shows a mattress being used by, predictably, an elephant, a gorilla and a clown. By the early 1960s, size had replaced ruggedness as the focal point, as research had shown that Americans were becoming both broader and taller. The new King and Queen sized mattresses were celebrated in full page ads and double page spreads in national publications like the Saturday Evening Post and Life Magazine.
This full page fold out advertisement ran in Life Magazine's May 1, 1964 issue. Restraining order? No, you just need a bigger bed! This ad probably raised as many eyebrows in 1964 as it does today, but it commands attention just the same.
In 1957, Grant G. Simmons, Jr., succeeded his retiring father as the president of Simmons Company. It was this man, the fourth Mr. Simmons, who was in charge at the time that Simmons decided to sponsor a pavilion at the Fair. Grant Simmons was apparently enthusiastic enough about the project to record some lines for use in the exhibit.
With Simmons' historical success using major national advertising campaigns to reach its consumer base, it is little wonder that they decided to participate in the Fair in such a big way. Did they benefit in such a way as to justify the expense? They are currently the world's largest bedding manufacturer.
---