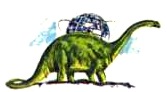 Your visit to the 1964-65 New York World's Fair will be an unforgettable experience. More than 300 exhibitors have created on Flushing Meadows an exciting, informative exposition offering probably the most "firsts" ever assembled.
Sinclair Dinoland, nearing completion for the April opening, is one of these "firsts" -- an unequaled recreation of the age of dinosaurs. Located in the Fair's Transportation section, Dinoland will focus the attention of millions on Sinclair's trademark and operations.
Sinclair Refining Company will serve visitors, too, as exclusive operator of service stations in the Fair's two largest parking fields.
A special color map of the World's Fair site and the best routes to it has been prepared by Sinclair. For a copy and other Fair information, write Sinclair Auto Tour Service, 600 Fifth Ave. New York, N. Y. 10020.