1st Floor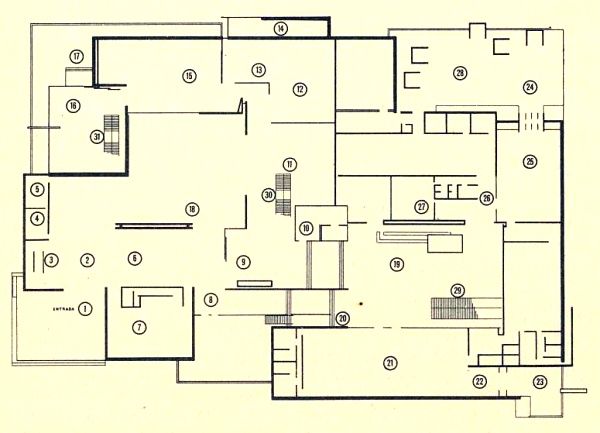 | | |
| --- | --- |
| 11. | The Spanish people's Hall. Craftsmanship, silverwork, ceramics, miniatures. |

| | |
| --- | --- |
| 21. | Grenada Restaurant. High-class Spanish cooking with a great variety of typical dishes from different regions of Spain. |

| | |
| --- | --- |
| 12. | Contemporary Art Gallery. Contemporary Spanish art. Oil paintings by Vazquez Diaz, Palencia, Zabaleta, Vaquero, Ortega Munoz... |

| | |
| --- | --- |
| 13. | Museum Hall. Triptych, The Painter and his model by Pablo Picasso, property of the Pavilion of Spain. |

| | |
| --- | --- |
| 24. | Entrance to the Toledo Restaurant. |

| | |
| --- | --- |
| 5. | Public Relations Office. Reception of visitors, oral and written information, escort service for special groups, photographer service, documents. Public events and festivities. |

| | |
| --- | --- |
| 15. | The Small Prado Museum. Famous masterpieces of El Greco, Zurbaran, Ribera, Velazques and Goya. |

| | |
| --- | --- |
| 25. | Toledo Restaurant. Luxurious and select European and Spanish cooking. |

| | |
| --- | --- |
| 6. | Discovery Hall. Showcases and exhibition, murals of the Discovery and the Evangelization by the painter Vaquero Turcios. Duran Codex, Account of the Conquest of Mexico by Hernan Cortes. Suma de Geogratia, by Fernandez de Encisco. |

| | |
| --- | --- |
| 16. | Museum of Romanesque Art. Unique exhibits from the Catalan Art, Solsona Diocesan, and Mares (Barcelona) Museums. |

| | |
| --- | --- |
| 7. | Marisqueria (Taberna Madrid) (The Madrid Tavern). Typical Spanish dishes, wines and sangria. Open until two in the morning. |

| | |
| --- | --- |
| 27. | Commissioner's Corner. |

| | |
| --- | --- |
| 8. | Jardin de la Reina. With the statue of Isabella by Jose L. Sanchez. |

| | |
| --- | --- |
| 18. | El Patio. Mural The Colonization (Vaquero Turcios); Ceramic mural Homage to Gaudi by Cumellas; screens by Labra; statue of Trier Junipero Serra, original by Pablo Serrano. Stage for the performances of the Coros y Danzas and other spectacles. |

| | |
| --- | --- |
| 28. | Kiosks. Spanish souvenirs. Jerez Bar. Pascual Fort. Churreria. |

| | |
| --- | --- |
| 9. | Hall of Honor. Mural of the Iberian peoples, Visigothic jewels, arms of the time of Charles V, coins. |

| | |
| --- | --- |
| 19. | Gift Shops. Shops for the sale of Spanish goods. (Aleixandre, Loewe, Hintrade, Gancedo, Toledo and Iberia.) |

| | |
| --- | --- |
| 29. | Scalator to the Theatre Hall. |

| | |
| --- | --- |
| 10. | Office of the General Commissioner. |

| | |
| --- | --- |
| 30. | Stairway to the Commercial Section. |

| | |
| --- | --- |
| 31. | Spanish handicraft Exhibition. |
---
2nd Floor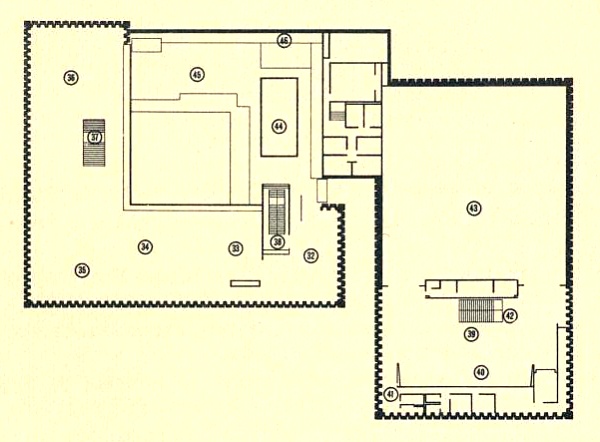 | | |
| --- | --- |
| 32. | Commercial Section (Costa del Sol, Spas, tourism Information. |

| | |
| --- | --- |
| 42. | Scalator descending to the Gift Shops. |

| | |
| --- | --- |
| 33. | Furniture and Decoration. (Furniture, lamps, wrought iron, curtains, carpets). |

| | |
| --- | --- |
| 34. | Spanish Commercial books technical and art books, magazines, art reproductions, postcards, slides. |

| | |
| --- | --- |
| 45. | Exhibition of slides of Spain. |

| | |
| --- | --- |
| 36. | Commercial Section Jewelry, glassware, china, textiles, carpets, wines, arms, toilet articles and cosmetics, machinery, wigs, costume jewelry, electrical appliances, lamps. |
---
Jerez, snack bar, First floor
---
Source: Teatro Espanol Program Advertisement
COME SHOP IN A TRULY

SPANISH MARKET PLAZA
You'll find one downstairs behind the Pavilion, freshly transplanted from Spain.

Here you'll find many charming examples of Spanish handicrafts that make ideal souvenirs of the Pavilion of Spain.

Dolls, miniature knights-in-armor, handcrafted jewelry, and many delightful objects in leather, straw, wood and clay, all for sale at the colorful booths.

Refresh yourself with a glass of horchata, a sweet almond-flavored beverage that's a favorite in Spain, and churro, a delicious, thin doughnut-like pastry.

Watch the regional folk dances of Spain performed in impromptu concerts in the Plaza.

So step outside into a touch of Spain on market day - it's a miniature Fiesta.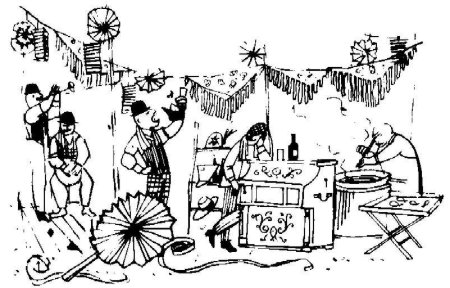 Source: 1965 Guide

Pavilion of Spain