ENTERTAINMENT

Cable Ride

AUTHORIZED REPRESENTATIVE

Mr. Paul Zuberbuhler, Director

International Cable Ride Corporation

c/o Von Roll A. G.

Berne, Switzerland

and

Martin F. Richman, Esq.

Root, Barrett, Cohen, Knapp and

Smith

26 Broadway

New York 4, New York

HA 2-8180

CONTRACT SIGNED

January 18, 1963

LOCATION

Begins Block 28; Lot 14, 34,240 sq. ft.

Ends Block 33; Lot 24, 26,755 sq. ft.

ARCHITECT

Von Roll, Ltd.

Berne P. O. Box Transit

Berne, Switzerland

CONTRACTOR

William L. Crow Construction Co.

ADMISSION

$ .50 each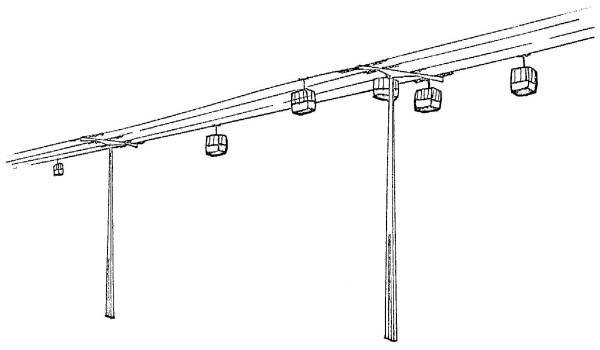 FEATURES

The Berne Works, a division of the Von Roll Iron Works, will erect a spectacular four seat gondola type aerial cable ride. The cable cars will travel at a rate of five miles per hour, at a height of 112 feet, affording a fabulous view of the panorama of the fair site, making the 2,000 foot journey in 5 minutes.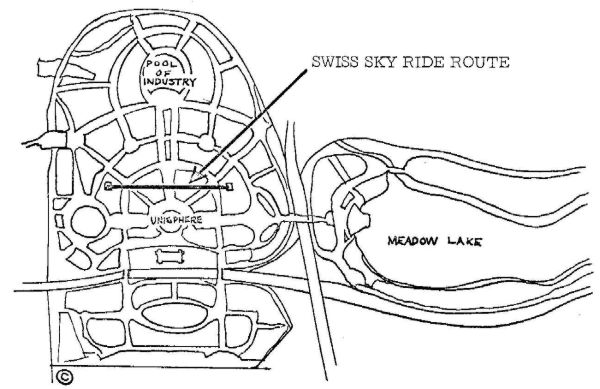 SOURCE: World's Fair Information Manual
FEATURES (cont'd)

Two complete circuits forming four cable lines will join two terminals on either side of the International Area, where passengers may board the ride. Two rows of cars will travel in either direction, accommodating 4,800 persons per hour, 2,400 in each direction.

While the passengers are waiting to embark, souvenir stands in the terminals will offer the opportunity to purchase many of the Fair's licensed items, which will include a replica of the Swiss Sky Ride.
---
Swiss Sky Ride
Source: NY World's Fair Publication For Those Who Built the Fair