FIRST--SEE THE FAIR

FROM HIGH IN THE AIR

NEW YORK WORLD'S FAIR 1964-1965

WHERE AM I?

WHERE'S THE SWISS SKY RIDE?

If you enter by the Main Gate on the north side of the Fair, walk down the Avenue of the Americas toward the Unisphere. The Swiss Sky Ride cable station is in the park to your left, just beyond the Masonic Building and adjacent to the United States Pavilion.

If you come in the South Gate from the parking lots by the lake, walk toward the Unisphere, right turn at the Vatican Pavilion and walk up the Avenue of Asia. The cable station is on your left, just past the Hall of Free Enterprise.

This is the way to see the Fair!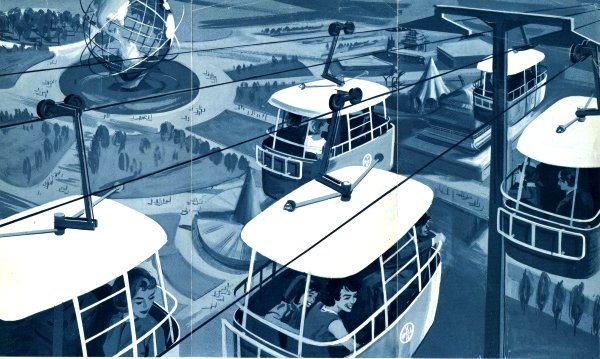 Below, the whole Fair! On either side, exotic pavilions of the nations reveal architectures of the future. The same cable cars that thread their way up mountains in many parts of the world carry you and your family both ways across the fabulous World's Fair, past the mammoth Unisphere, to the old world charm of Switzerland's mountain chalet - or to the new world atmosphere of the United States Pavilion. Photograph never-to-be-forgotten scenes of magnificence from the Fair's most exciting vantage point.
Owner: International Cable Ride Corporation, c/o Von Roll, Ltd., Berne Works, Berne Switzerland. Manager: Fair Sky, Incorporated, 250 Park Avenue, New York, N.Y. 10017
THE SWISS PAVILION is a delightful recreation of a tiny Alpine village, reflecting the kind of charm that has made Switzerland a favorite country for American tourists. the pavilion is less than 100 years from the Unisphere, located at the southern end of the Sky Ride at the corner of the Avenue of the United Nations and the Avenue of Africa.
SWISS CHALET RESTAURANT Dine under the peaked roof of the main lodge on traditional Swiss dishes, where multilingual Swiss waiters make your meal an oasis amid the hustle and bustle of the Fair. If you love good food, be sure to try Cheese Fondue. It's fantastic!
OFFICIAL WORLDS' FAIR TIME CENTER The master clock in the Time Center shows year, month, day, hour, minute, second and tenth of a second. Photograph yourself and your family in front of the Master Clock for a record of a Fair you will never forget.