Source: Cover, Original Cast Album, Columbia (Sony) Music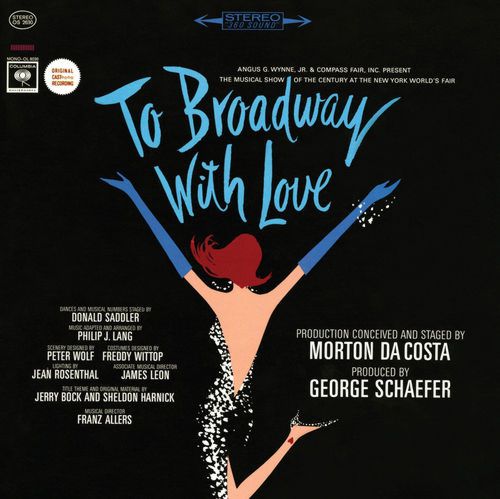 Source: Album Notes, Original Cast Album, Columbia (Sony) Music
Album Produced by Thomas Z. Shepard
Principle Performers in TO BROADWAY WITH LOVE:

CARMEN ALVAREZ .......................... GLORIA LeROY

KELLY BROWN .................................... DON LIBERTO

BOB CARROLL .................................... ROD PERRY

BRADFORD CRAIG .................................... JIMMY RANDOLPH

JEAN DEEKS .................................... EDDIE ROLL

TED FORLOW .................................... STEWART ROSE

DOROTHY FRANK .................................... GUY ROTONDO

HOWARD HARTMANN .................................... EILEEN SCHAULER

REBY HOWELLS .................................... MILLIE SLAVIN

PATTI KARR .................................... SHEILA SMITH

NANCY LEIGHTON .................................... RICHARD TONE





The Company was divided into two complete casts playing alternate days.

When this recording was made, one cast was actually performing at the World's Fair




TO BROADWAY WITH LOVE (Vocal Ensemble) from To Broadway Wight Love by Jerry Brock and Sheldon Harnick

OLD FOLKS AT HOME (Rod Perry) by Stephen Foster

DIXIE (Rod Perry and Vocal Ensemble) from Bryant Minstrels by Daniel Decatur Emmett





YANKEE DOODLE BOY (Don Liberto) from Little Johnny Jones by George M. Cohan

MARY'S A GRAND OLD NAME (Don Liberto) from Forty-Five Minutes From Broadway by George M. Cohan

EVERY DAY IS LADIES' DAY WITH ME (Vocal Ensemble) from The Red Mill by Victor Herbert and Henry Blossom

THE 88 RAG (Don Liberto) from To Broadway With Love by Colin Romoff and Martin Charnin

TILL THE CLOUDS ROLL BY (Vocal Ensemble) from Oh, Boy! by Jerome Kern, P.G. Wodehouse and Guy Bolton





OVER THERE (Millie Slavin) by George M. Cohan

THREE WONDERFUL LETTERS FROM HOME (Male Quintet) by James F. Hanley,

Joe Goodwin and Ballard MacDonald

WOULD YOU RATHER BE A COLONEL (Patti Karr and Girls) from Ziegfeld Follies

by Archie Bottler and Sidney D. Mitchell





ROSE OF WASHINGTON SQUARE (Millie Slavin) from Ziegfeld Midnight Frolic

by James F. Hanley and Ballard Mac Donald

BEAUTIFUL LADY (Bob Carroll, Guy Rotondo, Girls) from To Broadway With Love

by Jerry Bock and Sheldon Harnick





ANOTHER OP'NIN', ANOTHER SHOW (The Company) from Kiss Me, Kate by Cole Porter

THERE'S NO BUSINESS LIKE SHOW BUSINESS (The Company) from Annie Get Your Gun by Irving Berlin





CAROUSEL WALTZ (Orchestra) from Carousel by Richard Rodgers and Oscar Hammerstein II





SPEAK LOW (Millie Slavin) from One Touch of Venus by Kurt Weill and Ogden Nash

BUCKLE DOWN, WINSOCKI (Vocal Ensemble) from Best Foot Forward by Hugh Martin and Ralph Blane

BALI HA'I (Miriam Burton) from South Pacific by Richard Rodgers and Oscar Hammerstein II

I STILL GET JEALOUS (Nancy Leighton, Guy Rotondo) from High Button Shoes by Jule Styne and Sammy Cahn

F.D.R. JONES (Rod Perry and Vocal Ensemble) from Sing Out the News by Harold J. Rome



MATA HARI MINE (Vocal Ensemble) from To Broadway With Love by Jerry Bock and Sheldon Harnick

REMEMBER RADIO (Vocal Ensemble) from To Broadway With Love by Jerry Bock and Sheldon Harnick

POPSICLES IN PARIS (The Company) from To Broadway With Love by Jerry Bock and Sheldon Harnick





FINALE (The Company) from To Broadway With Love by Jerry Bock and Sheldon Harnick




---
Source: Album Notes, Original Cast Album, Columbia (Sony) Music
When TO BROADWAY WITH LOVE, the New York World's Fair's big, bright, bountiful musical extravaganza opened at The Music Hall in the Texas Pavilions in April 1964, Manhattan's newspaper critics were lavish in their praise. The New York Times called it "a swift, sentimental journey into the songs dances and moods of other days . . . a cheerful show." Other reviewers variously described it as "expertly conceived, "beautifully staged . . . heavily populated with talent." "the biggest eyeful and earful of stage memories you're every likely to meet" and simply, "a great show." This song-filled album preserves-perhaps as a memento of your own visit to The Music Hall-highlights from this salute to Broadway's musical theater.




In Dixie, cast recreates a moment from "Bryant Minstrels."




The Music Hall in the Texas Pavilions is a huge auditorium comfortably seating an audience of 2,600 people. During the course of the show the vast stage - 184 feet wide - holds 85 colorfully costumed singers and dancers, stunning scenery, and a movie screen upon which are flashed films from World War I, the Twenties, Thirties, World War II, the Forties, Fifties and Sixties to show us what was going on in the world at the time a certain show or song was popular.




"Beautiful Lady, you're like a beautiful bird."




A lavish reminiscence of nearly a century of musical comedy, TO BROADWAY WITH LOVE was conceived and directed by Morton Da Costa and produced by George Schaefer to remind us that although Broadway is but one of New York's City's main arteries, to most people it is the lifeline of theater, especially musical theater-in America. It is a musical bouquet to some of the song-and-dance men and women who over the years have delighted the nation and the world with words and music, romance and laughter




One side of this album of highlights from TO BROADWAY WITH LOVE concentrates on the years from the early Minstrel Shows to the Ziegfeld era. The other side represents the shows of the Forties and modern times..




Backstage, the cast improvises a musical number from some future Broadway show.




JERRY BOCK and SHELDON HARNICK, composer and lyricist for TO BROADWAY WITH LOVE were most recently represented on Broadway with She Love Me, winner of both the Variety poll and the Saturday Review critics' poll for the best score of 1963. Earlier, they had teamed up for Fiorello!, the first musical since I'd Rather Be Right to have an actual political figure as its leading character. It was also the third musical to be awarded the Pulitzer Prize for drama, an honor it shared with another Broadway show with a political subject, Of Thee I Sing. They later wrote Tenderloin which starred Maurice Evans. Prior to their collaborations, Jerry Bock wrote the annual Haresfoot Show at the University of Wisconsin, and later provided the score for Mr. Wonderful, starring Sammy Davis, Jr. Sheldon Harnick, after studying music at Northwestern University, came to Broadway theatergoer's attention with his "Boston Beguine," a hit of New Faces of 1952. The following year Orson Bean sang his "Merry Minuet" ("They're rioting in Africa . . .") in John Murray Anderson's Almanac. Bock and Harnick are currently working on the score for Fiddler on the Roof, a musical version of Sholom Aleichem's Tevya's Daughters' scheduled for Broadway.




Circus ring is setting for lavish Carousel Waltz ballet.
TO BROADWAY WITH LOVE
ORIGINAL CAST CD
Source: Liner Notes, Original Cast CD, Sony Music
The next time you're with your fellow musical theatre enthusiasts and the conversation turns to trivia (as it always does), here's a question that you can ask:




"Can you identify the three musicals that played New York in 1964 and offered songs by Jerry Bock and Sheldon Harnick?"




A panoramic tribute to great Broadway shows of the past.




Everyone will immediately exclaim Fiddler on the Roof, which opened on Sept. 22, 1964 and ran for a then-record 3,242 performances. The more erudite of the bunch will recall that She Loves Me, which debuted on April 23, 1963, was still around for the first 10 days of 1964. But what of that third show?




Some will guess Man in the Moon, the puppet show for which Bock and Harnick provided the score - but that played a week at the Biltmore in 1963. No, the answer, of course, is the album you're holding in your hands, To Broadway With Love. That's why the question said "New York" and not "Broadway," or even "off-Broadway." For To Broadway With Love was tailor-made for the Texas Pavilion at the 1964 World's Fair in Flushing Meadows, Queens. Now that's off-Broadway.




| | |
| --- | --- |
| Richard Tone recalls George M. Cohan's Yankee Doodle Boy. | Comic visions of wife, daughter and mother appear to doughboys in the sentimental Three Wonderful Letters From Home. |




It would be a revue that celebrated musical theater from the days of minstrel shows to Herbert, Cohan, Kern, Ziegfeld, Porter, Rodgers and Weill. Berlin and Rome may be most famous as foreign cities, but they're also the names of important American theater composers, so they made it into To Broadway With Love, too.




The show was conceived and directed by Morton DaCosta, who'd had four solid hits in the '50s (Plain and Fancy, No Time for Sergeants, Auntie Mame, and The Music Man) before stumbling with Saratoga, The Wall and Hot Spot. Still, DaCosta was entrusted with the 90-minute show that would cost $1,250,000 - in an era when the average Broadway musical was budgeted at a third of that. Sure, the pavilion had 2,600 seats, but admission was only $4.80 for the best seats, and $2 for the not-so-good ones. It would take plenty of customers to make back that nut.




| | |
| --- | --- |
| Gloria LeRoy and World War I recruiting staff in Would You Rather Be a Colonel. | Living statues gather round to hear Speak Low. |




Alas, To Broadway With Love would run only 97 performances, leaving the Texas Pavilion to merely showcase such exhibits as "Life on the Range" and "Art in Texas." Says Harnick, "I don't blame people for not wanting to give up their time at the fair to go inside and see a show." That doesn't mean, however, that Bock and Harnick didn't do good work. They first provided the catchy title song. When DaCosta also wanted a "new" Ziegfeld number, Bock and Harnick obliged with "Beautiful Lady." (Another song, "Hawaii," didn't make this album.)




But the songwriters biggest contributions came at show's end when, in the spirt of the forward-looking World's Fair, they imagined songs from the Broadway of tomorrow. Harnick's lyrics noted that there had been many recent musical biographies -- Funny Girl and The Sound of Music -- though he only mentioned them after citing Fiorello! - his own show. (Hey, charity begins at home.)




So Bock and Harnick imagined a musical about Mata Hari, and did a witty, tuneful parody. What's retroactively interesting is that three years later, there actually was a musical about Mata Hari - albeit a serious one - which had lyrics by Martin Charmin, the future Annie lyricist who had a song ("The 88 Rag") in To Broadway With Love. Says Charmin today, "There is no truth to any assumption that I got the idea for 'Mata Hari' from hearing Sheldon's song."




The 88 Rag celebrates the keyboard wizards of ragtime era.




Bock's melody for "Popsicles in Paris" is a real surprise. Says Harnick, "Jerry and I wanted to try writing a jazz waltz." Indeed, it's unlike any Bock melody you've ever heard. Harnick, meanwhile, also wanted to homage the fair's theme "Man's Achievements on a Shrinking Globe in an Expanding Universe." So he came up with the idea that the world had become so small that one could now buy previously unavailable all-American foodstuffs in the most remote of places. (If you young 'uns out there don't understand the lyric, "Metrecal in Moscow," just ask any overweight Baby Boomer.)




Best of all, Bock and Harnick, in noting how much nostalgia there'd been in recent Broadway musicals, created "Remember Radio," a charming list song with a melody that was simply out to delight. "Jerry was a big fan of radio serials," says Harnick, "so he provided many references from those episodes of yesteryear." Harnick, though, pointed out that one of the delights of radio was that it encouraged a listener to close his eyes and visualize the scene that was offered in words. Indeed, you can now do the same by imagining what To Broadway With Love looked like while listening to this album.




Finale: the Company throws a final bouquet to Broadway, past, present and future.




Today, there's precious little left of the World's Fair. Oh, the stainless steel globe known as the Unisphere is still there, as are a few ramshackle buildings. But add to the survivors something else: This original cast album of To Broadway With Love.
-Peter Filichia

Peter Filichia is a columnist for TheaterMania, and the author of "Let's Put on a Musical!"
Source: Back Cover, Original Cast CD, Sony Music