Proposed Transportation & Travel Pavilion, Charles Luckman Associates, Architects

SOURCE: NY World's Fair Corporation Progress Report #4, January 17, 1962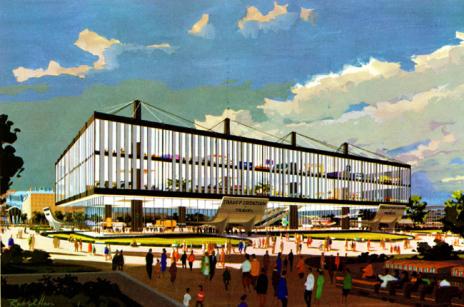 ---
SOURCE: Commercial Transparency by Photo Lab, Inc., Washington, DC - presented courtesy Mike Kraus Collection
---
We're flying high ... this time over part of the sprawling, fun-oriented Chrysler "autofare" and a vast, moon-domed Transportation & Travel pavilion.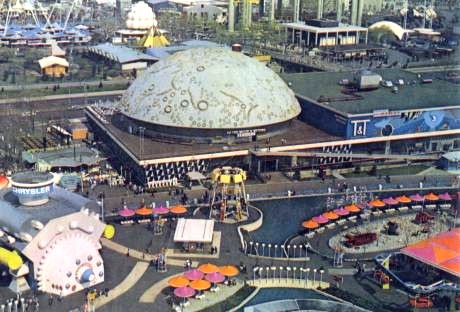 Source: News Colorfoto by Richard Lewis

Source: New York Sunday News - September 5, 1965
Everything about T&T suggests color and motion. Plastic covering on the "Moon Dome" at left forms a relief map of the lunar surface.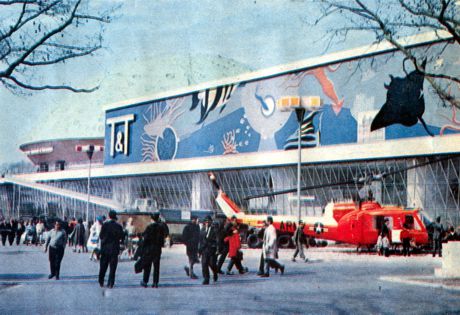 Source: News Colorfoto by Richard Lewis

Source: New York Sunday News - July 12, 1964

---
Transportation Themed Murals adorn the exterior of the T&T Pavilion (top). To the Moon & Beyond is presented beneath the Pavilion's Moon Dome (bottom).

SOURCE: Commercial Transparency by Photo Lab, Inc., Washington, DC

---

Front and Back. Two views of the T&T Pavilion. Top shows a view from the NY State Pavilion Towers. Bottom shows a view from the Port Authority Heliport.

SOURCE: Top: Presented courtesy Mike Kraus Collection. Bottom: Presented courtesty Bill Cotter Collection.

---
Bill Cotter's T&T Gallery
Bill Cotter, World's Fair enthusiast, has been collecting images of the 1964/1965 New York World's Fair for many years. He shares with us here some excellent views of T&T. If you would like to see more images of Bill's fabulous collection of World's Fair images, visit his website WorldsFairPhotos.com.
---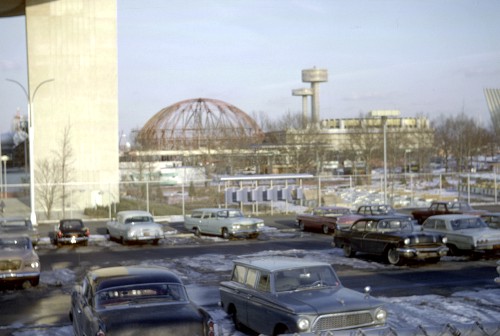 Building T&T. Note the United Airlines exhibit in the bottom photograph.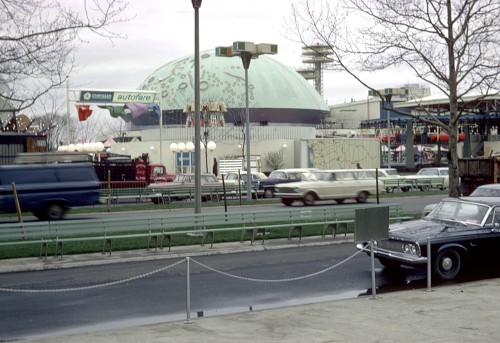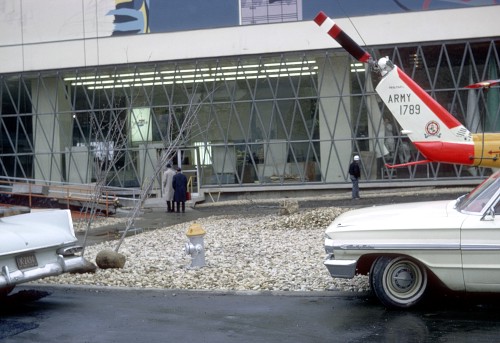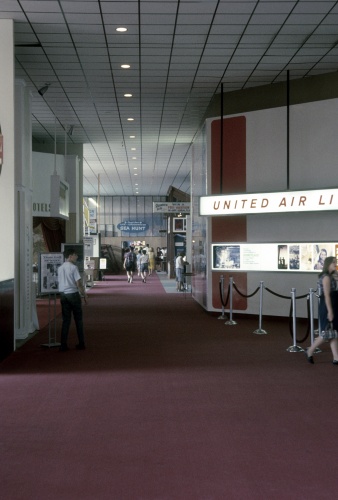 Above: Interior view of the T&T Pavilion. United Air Lines Jetarama theatre is on the right. Sea Hunt attraction is ahead. Below: Leslie Special - auto featured in the film The Great Race.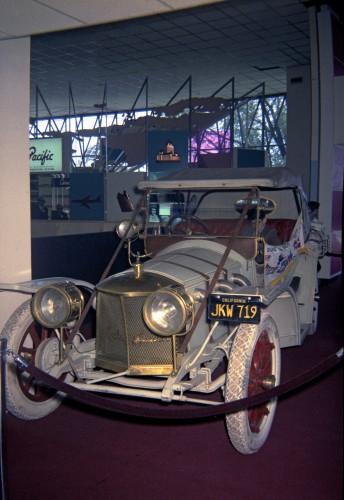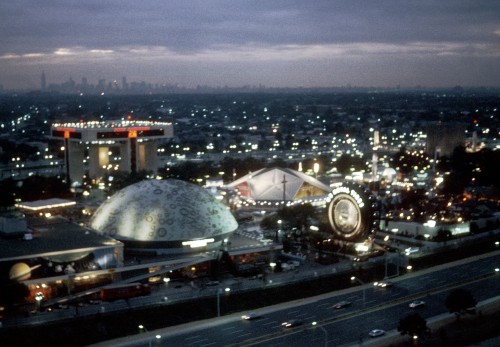 Colorful Illuminations. Note the TWA exhibit in the bottom photograph.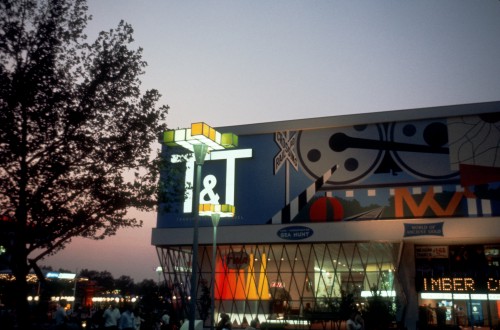 Source: Above photos presented courtesy Bill Cotter Collection and are © Copyright 2012 Bill Cotter, All Rights Reserved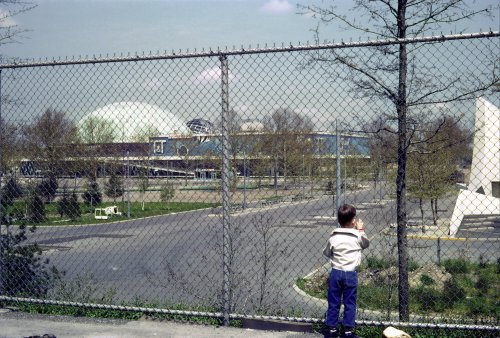 Demise of T&T. Spring of 1966 (top) and the T&T Pavilion is one of the few pavilions still standing on the Flushing Meadows site. Like other multi-exhibitor pavilions, such as the Better Living Center and the Pavilion of American Interiors, the T&T Pavilion was bankrupt and the World's Fair Corporation would have to foot the bill for its demolition. By June, 1967 (bottom), the T&T site is a vacant lot.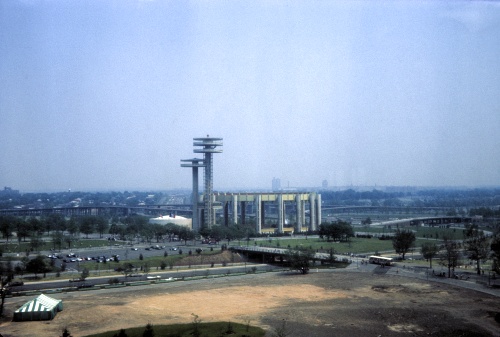 Below: Caption reads, "Silhouetted against the lunar horizon, men get a closeup look at the surface of the moon under a warm sun. Before long, they will know the mountains and craters of our nearest celestial neighbor as well as any World's Fair exhibit they have demolished. After all, they're beginning to tear down the Transportation and Travel Pavilion, where moon model, one of the last to go, has stood for two years." A sub-caption reads, "One of the last of the World's Fair exhibits presents a queer picture as workmen start to demolish the building known to Fairgoers as 'To the Moon and Beyond.'" The photo is dated June 22, 1966.