The producers of this show are making every effort to present the world's very finest automotive masterpieces. Should you have any suggestions, please feel invited to turn them in at the box office.

WORLD WIDE

PRODUCTIONS, INC.
---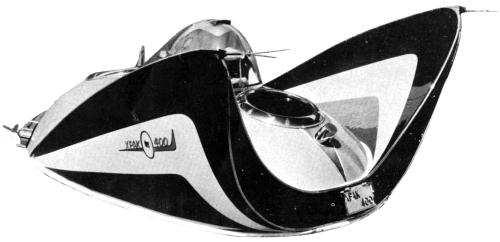 $50,000 XPAK 400 CAR-CRAFT

MAGAZINE EXPERIMENTAL AIR CAR
Built by George Barris of North Hollywood, California, the air car has caused more talk in the transportation industry than anything since the development of the jet engine.

It is a "ground effects" machine and rides on a five inch cushion of air. It can ride on water as well as land, has no wheels, transmission or rear-end and has no frictional moving parts. Air is drawn in through the front and rear openings into the open plenum chamber with outlets, through a combination of peripheral jet inserts. A four inch polyethylene circular skirt is installed on the under portion of the body.

Frame construction is of 3/4 inch alloy round tubing. The air car's dimensions are: 12 feet long; 6 feet wide and 30 inches high. Its stabilizer fins have an 8 foot 7 inch wing span, 57 inches high. All panels are hand formed from .040 half-hard aluminum.

Its power source is 2 jet aircraft starter motors, 24 volts D.C., 4 h.p., that turn 40,000 rpm at 300 amps. This is then reduced 8 to 1 to absorb the amount of load horsepower. Balanced 20 inch cast aluminum fans push 11,800 C.I.M. free flow and under 7/8 inch static water pressure has 7,600 C.I.M.

Dry weight of the car is 422 pounds including all accessories. Movement is obtained by a revolving jet nozzle which has an air thrust to the right, left, forward, reversed and stop.

Scoop on top houses a penta-prism rear-view mirror which can be seen from inside the cab. Headlight is a curved fluorescent triple-tube which throws a clear light 100 feet ahead and causes no glare to approaching vehicles.

Air stream indicators are mounted on the grille to register speed while the car is moving through the air. Contoured body is of unbreakable fibre-glass and bucket seats boast a waist-high safety belt. Air foam cushions in the upholstery are mounted throughout for safety and the floor has white plush carpeting. There is also an impact-resistant adjustable air foam headrest on a gold coil spring.

The air car also has Phono-vision, the new dial telephone with a TV screen to enable caller to see who he is talking to when dialing with the double-transistor TV camera and microphone. The 6 sq. inch TV screen is mounted on the dashboard and is operated on any wave length from a transformer.

A radar screen is also mounted on the dashboard, sending out waves to pick up the size of any obstruction on the highway or terrain.

The complete car is operated by sound waves and controls will be demonstrated by a small push-button box 50 feet away from it. Starting, stopping, right and left turns and operation of the neon and fluorescent lighting system is all handled by wireless remote control.

Body paint of nitro-cellulose lacquer consists of 35 coats using a million particles of a chromed aluminum called "Metalflake." The fins have 30 coats of imported Swedish pearl essence made of crushed fish scales and added crushed diamond-dust and then colored in kandy translucent red, white and blue.

This particular model was designed and built for public demonstration and is mounted on a guide rail for safety's sake.

All exterior trim has been gold plated for added beauty.

The engineering and styling on this car is a prediction of things to come in the auto industry.
---
| | |
| --- | --- |
| This sleek golden colored Jaguar, offering a peek at Summer fun on ski's is one of the show stoppers at the fabulous Cavalcade of Custom Cars Show in the Auto-torium of the Transportation & Travel Pavilion at the New York World's Fair. | |
| | |
| --- | --- |
| | This modernistic custom car, a Detroit entry at several World Wide produced auto shows is one of the highlights at the Cavalcade of Custom Cars exhibit. |
| | |
| --- | --- |
| | |
| Paul Anka, one of the many celebrities to visit Bob George's Cavalcade of Custom Cars Show at the New York World's Fair, poses along side of the "Couger", entered in the "Cavalcade" by the Ford motor Company as part of the Ford Custom Caravan exhibit. | International song star Paul Anka welcomes a bevy of beauties from the Transportation & Travel Pavilion to the Custom Car Cavalcade. Anka is seated in "La Shabbla", one of the masterpieces of the custom auto world. Valued at over $250,000, it was built and is owned by John Buzzi of Chicago, Illinois. |
| | |
| --- | --- |
| Benny Goodman, the King of Swing, tries out The Maharajah, the world's leading custom auto, at the Cavalcade's opening, 1964 World's Fair. Bob George, of World-Wide Productions, dubbed "The Mike Todd of the Custom Car World," took BG on a tour of the entire exhibit and Goodman sat in every car. The world's leading producer of custom car shows, George has also been involved in production of jazz shows featuring such artists as Stan Kenton, Count Basie, and Joe Williams . . . . | |
| | |
| --- | --- |
| | George Jessel is the delighted prisoner of Lee Levine (left) and Barbara Sands, hostesses at the Cavalcade of Custom Cars, while admiring the Lil' Bandit, a custom car beauty of Blue-Metal Flake finish owned by Whitey Agh and Andy Lennon of Long Island. |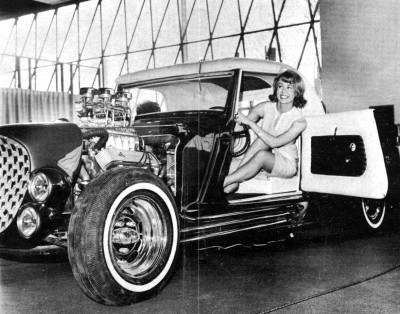 Flushing Meadow, N. Y. -- Lovely Barbara Sands of Sommerset, New Jersey, stage, screen & TV star is shown in the 69'er, a $15,000 custom made car. The 69'er is one of the many elegant custom cars shown in the Cavalcade of Custom Cars exhibition at the N.Y. World's Fair Transportation & Travel Pavilion. Miss Sands is currently featured in "Way Out West".
| | |
| --- | --- |
| | Popular disc jockey Freddie Robins (right) joins some visiting entertainers on the running board of a 1923 Chandler, loaned to the Cavalcade of Custom Cars by Charlie Bates Old Fashioned Saloon. |
| | |
| --- | --- |
| Georgie Jessel makes like a real Maharaja seated at the controls of "The Maharaja," one of the world's most elegant custom autos at the Cavalcade of Custom Cars in the World's Fair's Transportation & Travel Pavilion. Jessel is also the entertainment director-coordinator for the show. | |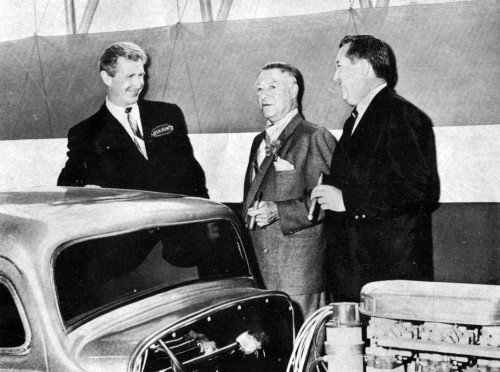 While casing a custom job called "Lil' Bandit", George Jessel breaks-up Sea Hunt star Lloyd Bridges and Cavalcade producer Bob George at the Cavalcade of Custom Cars.
Source: Selections from the Official Program, Cavalcade of Custom Cars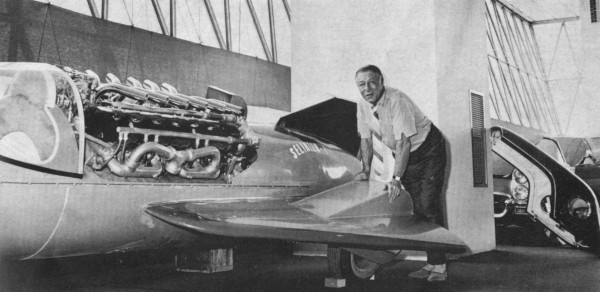 Just to be different, instead of kicking the tires, George Jessel tries the balance on the Selinium-1, one of the stars of the Cavalcade of Custom Cars.