EXHIBIT

Travelers Insurance Exhibit

AUTHORIZED REPRESENTATIVE

Mr. Herbert Kramer

The Travelers Insurance Company

700 Main Street

Hartford, Connecticut

203 JA 5-0121

__and

Mr. Thomas F. Maher, Manager

The Travelers Insurance Company

80 John Street

New York, New York

DI 4-7000

PUBLIC RELATIONS AGENCY

Mr. Ray Cudahy

Young & Rubicam, Inc.

285 Madison Ave.

New York, New York

MU 9-5000

CONTRACT SIGNED

June 9, 1961

LOCATION

Block 9; Lot 1

Industrial Area

AREA

49,487 sq. ft.

ARCHITECT

Kahn & Jacobs

2 Park Avenue

New York 16, New York

OR 9-3932

DESIGNER

Donald Deskey Assoc., Inc.

575 Madison Avenue

New York 22, New York

PL 9-5100

CONTRACTOR

George A. Fuller

FAIR CONTACT

Miss Phyllis Adams

ADMISSION

Free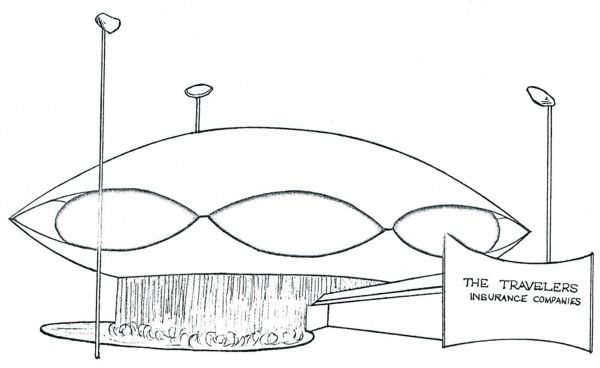 SOURCE: 1964 World's Fair Information Manual
FEATURES

"The Triumph of Man" - depicting man's increasing ability to protect himself, conceive ideas, and triumph over the perils that have threatened his survival since the beginning of time is the theme of the Travelers Insurance Companies' exhibit.




Exterior: The complete two-story structure, 63 feet tall and 120 feet in diameter is formed by two giant, abstract umbrella forms, one resting on the points of the other. The upper umbrella form is red, in keeping with the companies' umbrella symbol of over-all insurance protection. Hundreds of jets of water, rising to a height of fifteen feet, form a curtain underneath and around the base of the pavilion, so that the entire structure appears to be floating on a fountain of water.




Interior: An escalator takes visitors to the second floor where the major part of the exhibit begins. The "Triumph of Man" exhibit spans man's history, starting with prehistoric times and leading into his future. Visitors witness dramatic events, selected to show how man used his growing intelligence and ability to act in concert with his fellows to overcome threats to his existence, to control his environment and to strengthen his security. Employing ingenious techniques and devices to recreate the sights and sounds of a million years of human progress, the exhibit brings visitors into each civilization so completely that they feel themselves to be part of the scene. The tour takes 18 minutes.




From the second floor, an escalator takes visitors down to "Your Town USA" where they may see how insurance fits into everyday life. An insurance center, under a huge red umbrella, offers explanations of the major forms of insurance available today to everyone through The Travelers.
---
Travelers Insurance Exhibit
Source: NY World's Fair Publication For Those Who Produced the New York World's Fair 1964-1965