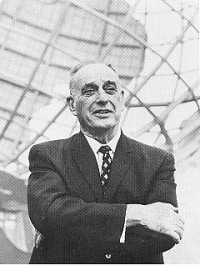 Robert Moses speaks out on the B.I.E.:
"Most of the foreign nations are coming in, either officially or through quasi-official business and other official interests. We are not members of the Bureau of International Expositions, can't be without a treaty proposed by the President and approved by the Senate, and could not in any event subscribe to the peculiar rules of this curious organization. This has proven only a minor embarrassment, to the disappointment of the Gloomy Gusses who prophesied that without the B.I.E. we would never get off the ground."
-Progress Report #6 of the New York World's Fair Corporation September 12, 1962
"You have heard much about our difficulties with the Bureau of International Expositions in Paris, the so-called B.I.E. This controversy has been grossly distorted. The facts are really quite simple and are perhaps worth repeating once more in view of the continuance of mis-statements:
The New York World's Fair Corporation is under public auspices on city park land enjoying tax exemption as a non-profit educational enterprise.
It must run two years, that is two seasons.
The World's Fair Corporation cannot join the B.I.E. except by a treaty authorized by Congress at the instance of the President.
No such action is even remotely thinkable.
The New York World's Fair of 1939-1940 repeatedly assured the B.I.E. at that time that we would join, but never did.
In the case of this Fair, the B.I.E. was told frankly that we could not join.
The B.I.E. attempted to "outlaw" the 1964-1965 Fair but did not succeed. Some B.I.E. countries refused to exhibit as such, but almost all are in the Fair under private or quasi public auspices.
The absentees unfortunately include the United Kingdom and Canada, but the Fair will get along without them.
Let me add that Canada has been authorized by the B.I.E. to hold a world exposition in 1967 and has made some rather flamboyant, premature announcements."
-Progress Report #7 of the New York World's Fair Corporation January 24, 1963