The Tower of Light night view
The Xenon searchlights that made the brilliant beam of the Tower of Light
"Uncle Ben" Franklin - starring character in the Tower of Light's 1964 & 1965 shows
The Carrier cooling and heating equipment becomes a part of the Tower of Light show. A polar bear, mermaid and penguin enjoy the air conditioned comfort provided by Carrier. In this sequence of the show the penguin sings a song about the joy of air conditioned comfort.
A searchlight lighting ceremony at the Tower of Light
SOURCE: Archival Photographs from the Electric Power and Light Exhibit
---
Source: Above photos presented courtesy Bill Cotter Collection and are © Copyright 2017 Bill Cotter, All Rights Reserved. Top left transparency by Pana-Vue.

Beautiful night shot of the Tower of Light

Spectacular lighting effects

View of the Tower of Light from a distance. Note the visible shaft of light coming from the Xenon searchlights
---
VIEW-MASTER INDUSTRIAL AREA, New York Worlds Fair 1964-65, Sawyer featured the "Tower of Light" on the cover of their Industrial Area View-Master packet.
Aerial View of the Tower of Light
SOURCE: New York World's Fair 1964-1965 Corporation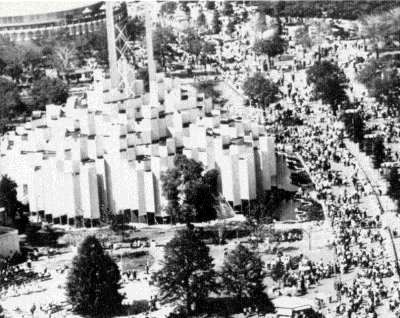 Artist's Rendering
SOURCE: Commercial Transparency by Photo Lab, Inc., Washington, DC
Source: Commercial Transparency by Photo Lab, Inc., Washington, DC Courtesy Larry Hubble collection
---
Source: "United Airlines Presents" Promotion Slide Show

Scenes from "The Brightest Show on Earth"

"Uncle Ben" Franklin at the piano

The dazzling Christmas Scene
---
"Uncle Ben" Franklin
SOURCE: Bradd Schiffman Collection