EXHIBIT

United States Rubber Company

AUTHORIZED REPRESENTATIVE

Mr. W. c. Johanson

United States Rubber Company

1230 Avenue of the Americas

New York 20, New York

CI 7-5000

FAIR CONTACT

Mr. Thomas Kearney

Port of New York Authority

CONTRACT SIGNED

April 30, 1962

ADMISSION

25c

LOCATION

Block 47; Lot 5

Transportation Area

AREA

15,000 Sq. Ft.

ARCHITECT

Shreve, Lamb & Harmn Associates

11 East 44 Street

New York 17, New York

MU 2-8344

CONTRACTOR

Thatcher Construction Co.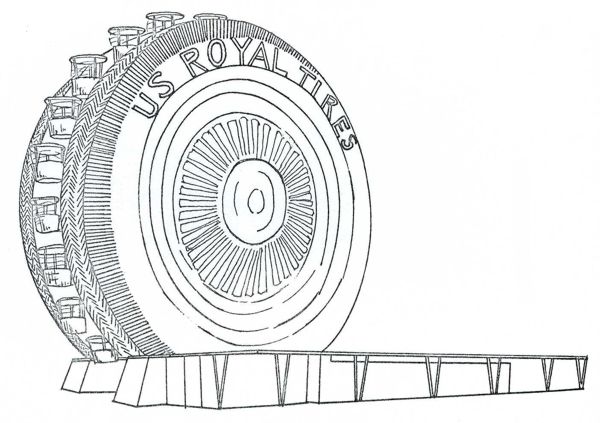 SOURCE: 1964 World's Fair Information Manual
FEATURES

The United States Rubber Company exhibit is an 80 foot high giant tire, in which people can actually ride. The ride affords a high clear view of the Fair grounds for sightseers and camera enthusiasts and has a total seating capacity for 96 passengers, four in each of the 24 barrel shaped gondolas.




The giant tire designed by Shreve, Lamb, & Harmon Associates is fabricated of U. S. Rubber's Vibrin polyester resin reinforced with glass fiber. The coating of colored polyester resin gives the appearance of rubber, whitewalls and the red circle of security, United States rubber's premium tire designation. The plastic laminate weighs 17,500 pounds. It was molded in sections and built onto a steel framework encasing the moving mechanism. The gondolas moved around the circumference of the giant tire in the tread section.




The tire is designed for construction on a heavy foundation so it can be operated without unsighly stabilizing guy wires and will be able to withstand hurricane-force winds.




The company is using many of its products in the giant tire. The gondolas are made of Expanded Royalite, a molded ABS thermoplastic. Seats are cushioned with Koylon foam rubber and covered with Naugahyde vinyl upholstery. The floor in each gondola is covered with Royal vinyl carpeting.




At the entrance, where passengers assemble for the ride, a series of display cases exhibit U. S. Rubber's diversified tire line.




The U. S. Royal sign in the tire has illuminated letters four and a half feet high. The structure is floodlighted at night and is visible from every part of the Fair grounds.
---
United States Rubber Company
Source: NY World's Fair Publication For Those Who Produced the New York World's Fair 1964-1965