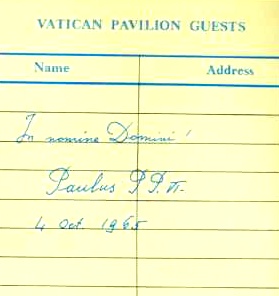 The Vatican Pavilion and its exhibit proved to be the second most popular attraction of the entire Fair. More than one out of two (52%) of all those who came to the Fair visited the Pavilion of the Vatican No other religious-sponsored pavilion or exhibit at the Fair attracted even one-fifth that number.
Attendance at the Vatican Pavilion was recorded officially as follows:
For the 1964 Fair season 13,823,037 guests

For the 1965 Fair season 13,197,820 guests
TOTAL NUMBER OF VATICAN PAVILION GUEST DURING THE 1964-65 NEW YORK WORLD'S FAIR:
27,020,857 guests
His Holiness Pope Paul VI, 15 Cardinals, 1 Patriarch, 3 Apostolic Delegates, 5 Papal Nuncios, and 127 Archbishops and Bishops were among the ecclesiastical visitors to the Pavilion. Civilian guests included the Vice President of the United States, the Chief Justice and 4 other Justices of the United States Supreme Court, 4 members of the Presiden'ts Cabinet and the Governors of 17 states. Foreign guests included the Presidents of 14 countries, 4 Prime Ministers, 15 Foreign Ministers, and 123 other members of the Diplomatic Corps.
The attendance peak for any one day at any pavilion or exhibit at the Fair was set by the Vatican Pavilion on October 17, 1965 - the final day of the Fair - when 183,716 visitors (an average of 225 guest a minute for the 12-hour exhibit day) crowded its confines.
During the last week of the Fair alone, 1,119,869 guest streamed through the doors of the Pavilion of the Vatican apparently determined not to have to chide themselves later for having failed to take advantage of the opportunity to view the exhibit.